Promo Video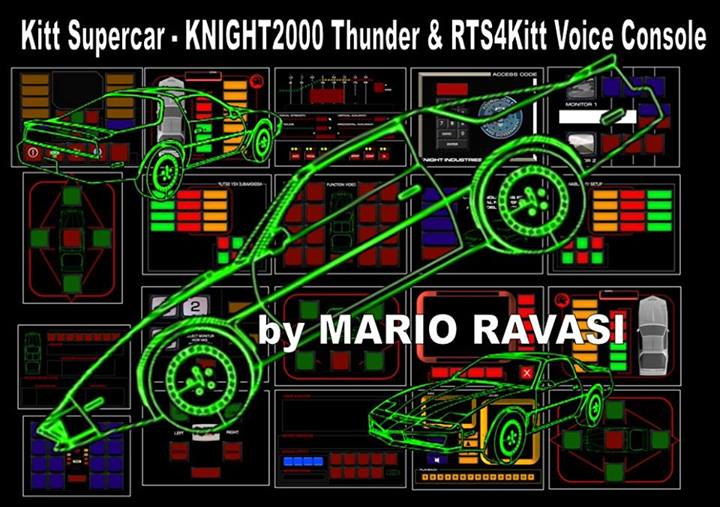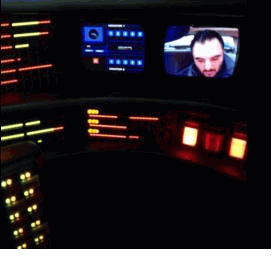 Generale Description and Features
KNIGHT2000 Thunder Voice Console is a completely new platform built with special graphics specifically designed for a perfect match to the style Knight Rider.
- Fully navigable and controllable voice through the use of'' Dragon or ViaVoice software (over 100 voice commands for navigation for both systems)
- Manages: Internet connection, Multi webcam (up to 5 Cam) Multi Audio (up to 5 sound cards), GPS, Dual Monitors, Video, MP3, audio effects
- Allows you to manage native relay cards or already in possession;
- Comprehensive of instructions, and instructions for creating new voice commands or with ViaVoice or Dragon

Features
- Management of up to 5 sound cards
- Management of up to 5 webcam which lets you record movies or photos you want to take
- Motion Detection Webcam with management on the 5 events (Event Driven Agent )
- Easy Setup and interactive Info Center Massage
- Assignable Buttons for functionality
- Multimedia Player ( Audio , Video, Film) with spectrum analyzer , graphical effects , read MP3 info , playlists, etc.
- Section 80 year games
- Internet navigation with On Screen keyboard
- Sound Projector , projecting his voice with special sound effects on a 5 to pleasure of sound cards
- Voice Analyzer, multi-spectral analyzer of the item divided by frequency
- WebRadio: Radio Web with Info Center Massage activated towards any Audio tab
- Ultra Audio Manager with special sound effects and spectrum analyzer, to manipulate the audio file or sound source web radio Multi Audio tab
- GPS Tacho Meter Satellite Info Center with Massage for real-time some interesting and useful information: time and average speed in kph or mph , on -screen display .
- Acceleration of the car.
- Altitude in meters or feet .
- The direction of travel relative to the ground - an indication of the Latitude and Longitude and their graphical representation .
- Graphical presentation of the satellites on the horizon , visible and those in use.
- The number of visible satellites , as well as their details , such as power, position .
- Graphical representation of the time course of the velocity .
- Display of the satellites on the horizon Monitor 1 or 2.
- Management of events ( Event Driven Agent ) associated with certain values ??of velocity or acceleration
- Video and Audio Random function on one of the 5 sound cards or on one of the 2 monitors with video of Devon
- Management of electrical devices via car or proprietary relay cards already in possession;
- Graphic animation of the activation of the device by voice prompts also
- Touch & Go function , with the possibility of activating a device by clicking on the car
- GPS navigator, through the use of third-party products for which you supply only the sentences of KITT
- OBD diagnostics through the use of third-party products Free

KNIGHT2000 Thunder Utility Pack
The package also includes Utility Suite Pack to be used in part or as a support for the creation of macros Vowels:
- Macro Maker Studio: the Integrated graphical environment that allows you to build and test a preview with a few clicks macros defining the timeline and what audio, video or send exe running, with the possibility to choose between one of the 5 sound cards or one of the 2 monitors. Manages 3 modes of response: Random, Humanized, Standard. It does not require third-party software
- VoiceBox: allows the monitor to represent the voicebox animated at an audio file or a phrase. It does not require third-party software
- VideoBox: allows you to send running on the monitor you want the movie you want. It does not require third-party software
- Include
- more than 40 new Video use for their own purposes or for creating your own macros Voice
- Even more than 100 Italian phrases KITT to use for their own purposes or for creating new voice commands
- Over 150 voice commands already preset, clear indication of the ease of creating new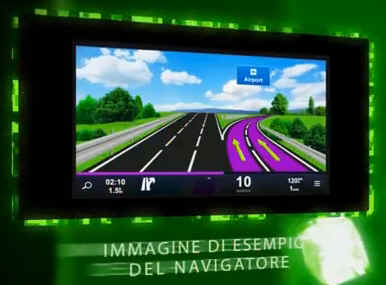 .

.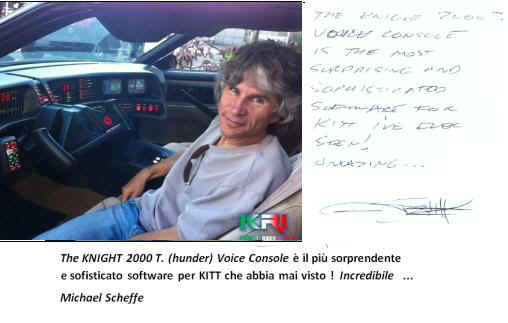 The KNIGHT2000 Thunder Voice Console is the most surprising and sophiticated software for KITT I ever seen ! amazing ...

Michael Scheffe
---
The KNIGHT 2000 Thunder Voice Console is the interactive platform designed specifically for replicas of KITT, so as to allow a simple interaction with simple voice commands and make driving more fun as possible without taking your hands off the wheel.
Special graphics specifically designed for a perfect match to the style Knight Rider.
New features, special effects graphics, internet technology, Satellite and much more. The recent version 2.0 (2017) offers more features
---
The Presentation of the Software in Preview

It was officially presented to the Italian Knight Rider Festival

at June 22, 2013 in Milan, on board one of the most perfect and faithful replicas exist, that its management has opted for the platform KNIGHT2000 Thunder Voice Console; the same Michael Scheffe, having viewed and used in the program wrote (see above)



The KNIGHT2000 Thunder Voice Console is the most surprising and sophiticated software for KITT I ever seen ! amazing ...


Michael Scheffe

---
T..
Davide Faraso
---
The technology used
KNIGHT2000 Thunder is a completely new and rewritten from scratch, using technology from Microsoft, Visual Studio, then a set of real programming languages. This is not a conglomeration of several different programs made by various manufacturers and sold as owners, but rather an integrated platform, where the code has been written line by line from scratch in 'Area Development RoadThudhnerStorm (RTS Development Department).

All individual modules, such as the media player, the projector Sound, Motion Detection on Multi WebCAM, Web Radio Ultra Video players were written line by line using the native Windows API, so Microsoft technology for Microsoft Environment.

The only exception is the Navigator and Tool OBD products that are provided by Third Parties, but that they will also be made at home for a short iun perfect match to the style Knight Rider.
---
Study and Research
Behind the creation of the software there is a study and research (by 's RTS Research Department) in order to:.

- Implement a software for as much as possible in line with the television series, for the management of the replicas of KITT ..
- Create a graphical particular: 800x600 created specifically for monitor 5 "mounted in the replicas and studied, with the support of a Study of Information Design, for a perfect match with the graphics and the colors of the dashboard ..
- Have new sounds taken directly from the television series, and rebuilt in the studio in digital, absolutely faithful to the TV series ..
- Take into account the suggestions received from the replicants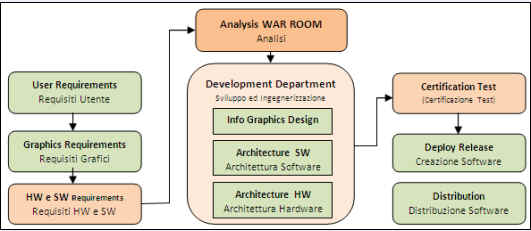 The software and

graphics

are

copyrighted

©

and

regularly

Register

®
---
The Voice Control: which program to use The platform is fully navigable and controllable by voice using the software:
- Voice Attack
- Dragon Naturally Speaking of Nuance

Except fo the version IoT not need any software but use your smartphone or smarwatch for VOice Control

It should be noted that the 'voice use that is made at the level of Car-PC is very limited, and the two programs for the purpose almost equate, because both software are used to ask to recognize individual words (eg Hello) or more than 2 or 3 words (eg How are you, Open the glass, ..), it is not a fact-intensive and heavy as the dictation of long texts in a text editor (such as Word or Excel) or used to interact with Windows with voice commands complex and far.

The Roadthunderstorm tried them both

VoiceAttack uses the native Windows voice recognitioin engine; it a simple and fast software with a symbolic cost Dragon is the most known software of VOice Recogniton but

has the inconvenience to slow down your PC performance in terms of CPU and RAM occupied.Also it is a costly voice recognition software,
---
Relay Cards: Control and Interaction Auto up to 120 relays on a single USB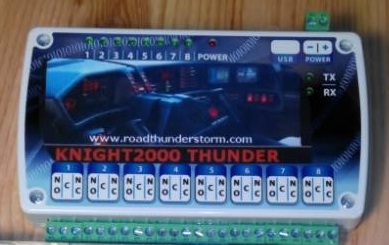 The new Relays Card

To the platform KNIGHT2000 Thunder were associated tabs industrial relays specially chosen from among a number screened (see photo above)

- It is in effect a product built with industry standards and is presented as a finished module , compact, without electronic parts in view , because it is enclosed in a container with detachable terminal block . Each module contains 8 relays , and is suitable for a maximum of 15 modules ( 15 x 8 = 120 relay ) with a unique USB port

- The communication between the modules is via the RS485 protocol that does not suffer from signal loss typical of USB (max. 5 m) , it can reach a maximum distance of 1200 meters (1 km and 200 m ), then there is a possibility to keep the modules also very distant from your PC without having to use powered USB hub to boost the USB signal . The RS485 protocol allows in fact a very high transmission speed (35 Mbit / s to 10 m and 100 kbps to 1,200 m). Since it uses a signaling system with a voltage rating not negligible , with a balanced line through the use of a pair (as in EIA RS- 422) , you can reach relatively large distances (up to just over 1,200 m note ) .

- the cost is the same or even less than many traditional cards

The software is compatible with cards but RELAY 'provided by third parties, because it is designed in a modular way, ie there is an intermediate form that adapts automatically to the type of relay board used, but it must be known a priori.

For example, it is compatible with cards Relay
Ebay seller VIRTUALENEW, not more sell but for those who had already held (see an example below)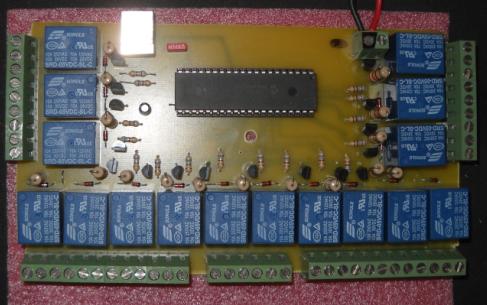 70 Euro
8 Relays
130 Euro
16 Relays
170 Euro
24 Relays
con effetti aud
Little ENGLISH Short Demo
l z
MOTION Detection
ile
Radio ULTRA
con semplii click o c
VIRTUAL VOICE BOX
con semplii click o c
MEDIA PLAYER
Ut wisi enim ad minim veniam, q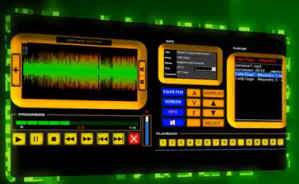 uis.

.

.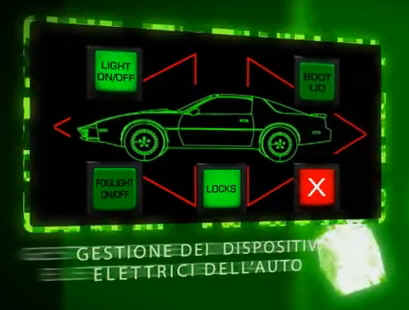 .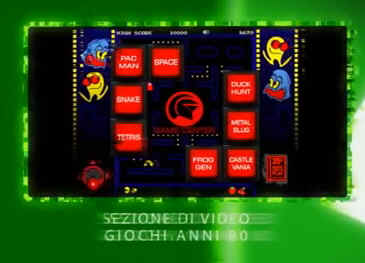 .